If you're just setting up your own website for the first time, you're pretty much guaranteed to need to use cPanel at some point. Heck – 90% of the web hosting providers use cPanel.
The problem is, cPanel can be incredibly confusing if you've never used a control panel before.
What's even worse – many guides are written by super-technical web guys who forget that newbies don't have the same level of understanding or even the same vocabulary they do.
But not this one!
Why should you read this guide?
It's for absolute beginners
First time using web hosting & cPanel? Great, this guide should suit you!
It's super fast
Use CTRL+F to find answers to common questions.
It's up to date
Other cPanel guides might use old versions of cPanel, this guide is ready-made for 2018.
Table of contents
1. cPanel – The Basics
2. A Quick Intro to cPanel interface
3. Updating your Preferences (passwords, contact information etc..)
4. Managing Domain Names (adding, removing etc..)
5. Email Accounts and Settings (spam filters, additional email accounts)
6. Managing your files (FTP)
7. Backing up your website
8. One-Click-Installs (Like WordPress)
I'll also give you some helpful tips and tricks that will make managing your website much easier.
1. cPanel – The Basics
Pssst… If you already know what cPanel is and you've logged in, skip to the next section – you won't miss a thing.
What is cPanel?
It's a control panel where you can manage every element of your hosting account.
Because it's a simple graphical dashboard, and cPanel is well-maintained with regular updates, improvements and security measures, most hosting companies use cPanel to help their customers manage their websites.
What can I do in cPanel?
A lot! This is where you'll come to:
Connect domain names to your hosting
Set up emails for your site
Install WordPress (or another content management system)
Back up your website
Upload files
Check your bandwidth usage
And a whole lot more – to change security settings, check out your website's analytics and install helpful apps, etc.
How do I log in?
If this is your first time logging in, your hosting provider should have provided you with the necessary username and password you'll need.
Most hosting companies have links to your cPanel once you've signed into your hosting account.
For example, this is where you can log in to an example hosting provider, right at the bottom of the "My Account" page: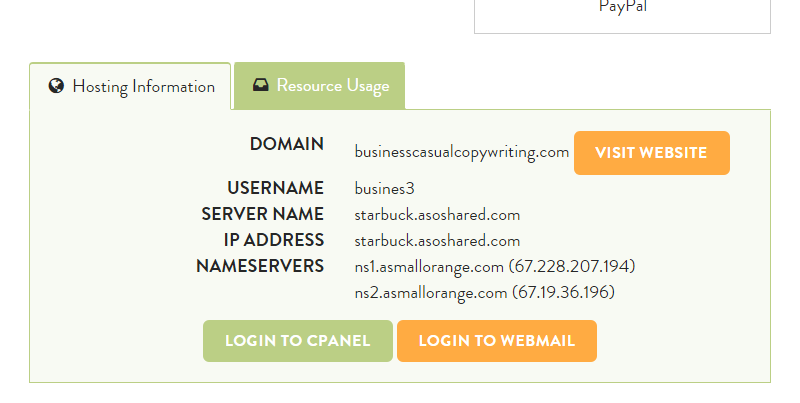 The fastest way to log into your cPanel is to type your web address into the search bar, followed by :2082 (unsecured) or :2083 (secured).
For example http://www.yourdomain.com:2082 or https://www.yourdomain.com:2083
You'll then be asked to provide your username and password.
What if I need more help?
This guide explains all the basics and gives you step-by-step instructions for tackling some of the most common tasks like setting up email accounts and domain names.
If you need a bit more help, cPanel has some video tutorials here.
There's also LOTS of documentation available on every internal cPanel page, usually listed along the top: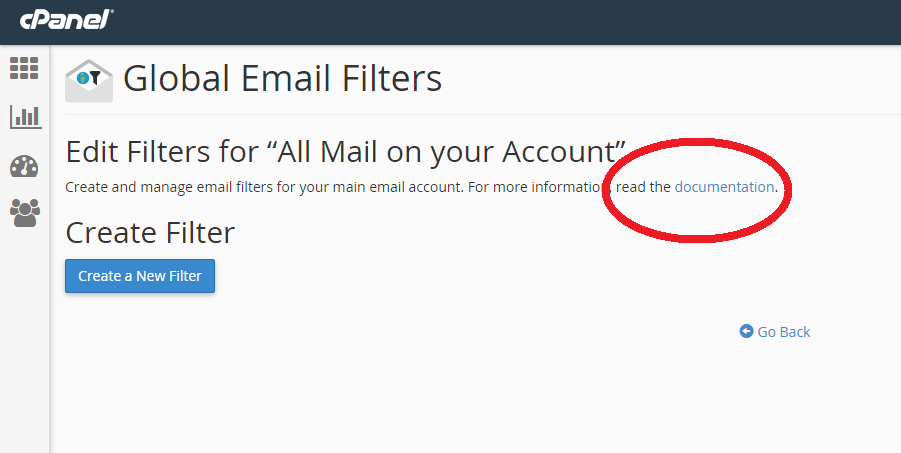 2. A Quick Intro to cPanel's Interface
Once you've logged in, you should see a screen similar to this: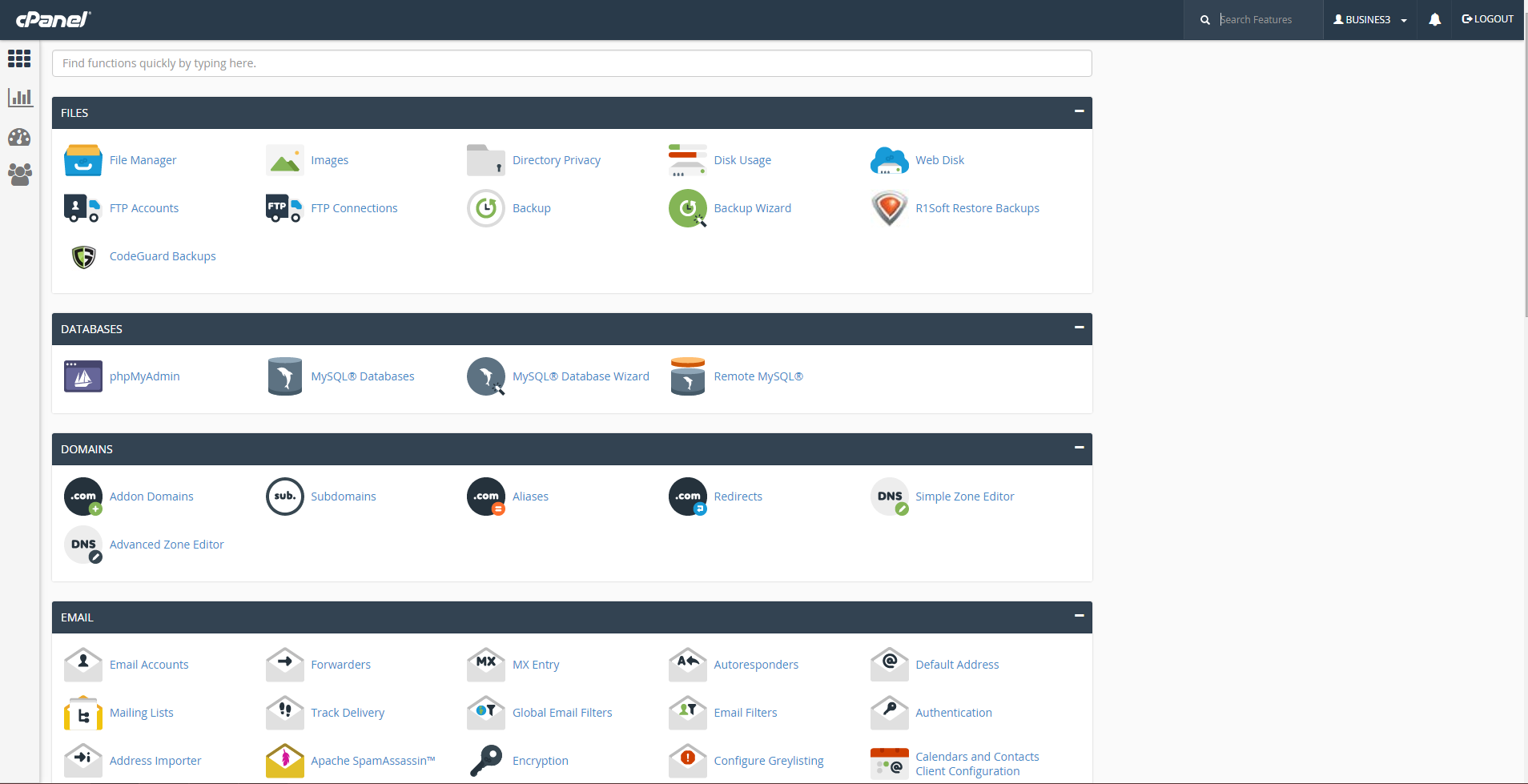 This is the newest version of cPanel for 2018. It uses a theme called "Paper Lanterns".
If your cPanel interface looks different, don't panic!
To change the style of your cPanel, find the "Preferences" section of the Home page (it's usually near the bottom) and click "Change Style".

You have a choice between "Basic" and "Retro".
Choose "Basic" by clicking the "Apply" button in the top right corner. The cPanel will convert to the latest and greatest look.
Getting Around in cPanel
Search Bar
At the top of cPanel just below the navigation bar is a handy search bar you can use to find functions quickly. Just punch in what you're after, and cPanel will dig it up for you!

Navigation Bar
On the top right corner of the screen is the navigation bar, with "Search Features", Account Management, Notifications, and Logout.

Search Features is the same as your search bar – you can use it from any page in cPanel.
Account Management is where you can change your password, language, style or contact information. If anything gets messed up, you can reset the page with a single click!
Notifications is where you will get critical updates from cPanel like security concerns, out-of-date apps or other must-know information.
Logout is pretty obvious – remember to use it every time you're finished with cPanel!
Sidebar
On the left side of your screen, you'll see a sidebar with four icons. From the top down, these stand for Home, Statistics, Dashboard, and User Management.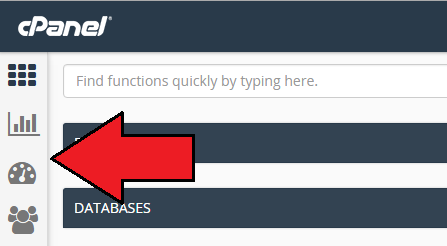 Home is the primary page of the cPanel where you can access most of the functions.
Statistics show you important numbers – how many email accounts, file transfer protocol (FTP) accounts and domain names you have, as well as how much bandwidth and disk space you're using.
Dashboard is a quick reference page where you'll find links to some of the most commonly used links of the site, as well as at-a-glance looks at your bandwidth and disk space usage, mail statistics and more.
User Management is where you can add or remove users from your account. You can also see which email accounts you've set up, as well as who has access to your FTP and web disk in case you're sharing an account with other users or admins.
Reorganizing cPanel's Home Page
You can collapse sections by clicking on "-" sign at the top right corner to minimize the ones you aren't using.

If you like, you can also drag and drop entire sections to reorganize the order and put the sections you use first at the top and save time.
3. Updating your preferences
When you log into cPanel for the first time, make sure you visit the Preferences section to update your contact information and change your password.

Changing Your Password
We strongly recommend changing your password at least every 3 months to protect your site against hacking.
Click "Password & Security", you'll be taken to this screen:

You'll have to enter your old password before choosing a new one.
We recommend using the "Password Generator" if you want a fast way to create a super-strong password.

Make sure you jot your password down somewhere safe – DON'T save it in a Word file or something similar on your computer where it could easily be hacked.
Updating Your Contact Information
One of the most important things you must do in cPanel is to provide an email (NOT attached to a domain name you're hosting) where you can receive updates when needed.
Click "Contact Information" to reach the following screen:
We strongly recommend leaving all of those boxes checked, as they're all updates that could alert you to suspicious activities (e.g someone else changing your password) or a hosting problem (e.g disk space being used up).
Adding a New User
Let's say you have a web developer who is going to help you with your website – or a trusted business partner who will also need access to make changes on your website.
Click the "User Manager" icon in the Preferences section to be taken to this screen: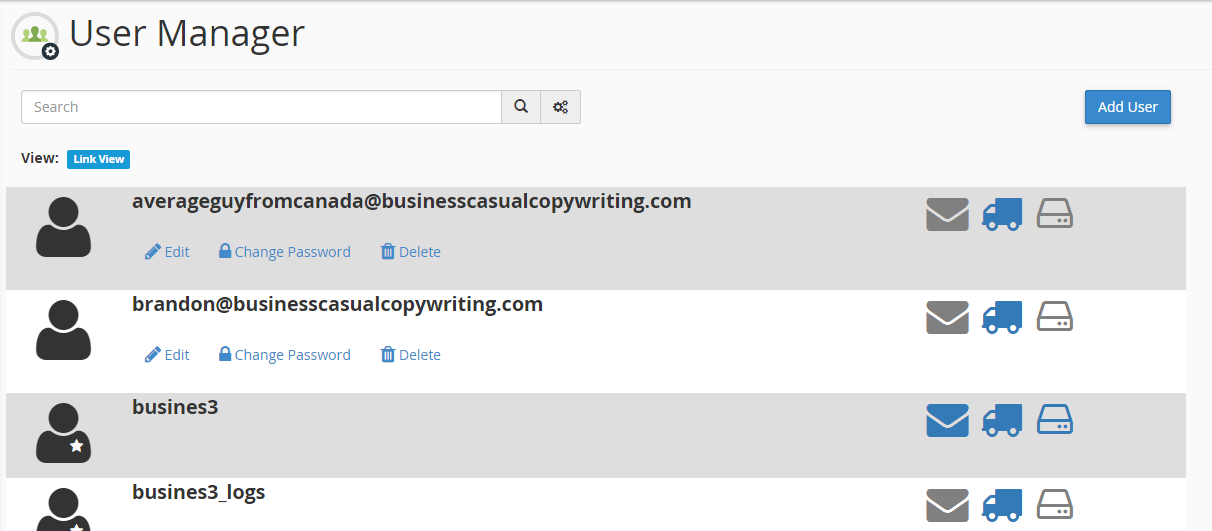 On the screen above, you can see all of the accounts set up inside your cPanel. There are three icons next to each account:
The mail envelope indicates this account has an email account set up in cPanel that's associated with it.
The delivery truck indicates that the account has access to FTP (file transfer protocol).
The disc drive indicates that this user can use the web disk services.
You can easily edit any user, change their password or delete them with the options listed below the account name.
To add a brand new user, click the "Add User" button at the top right corner.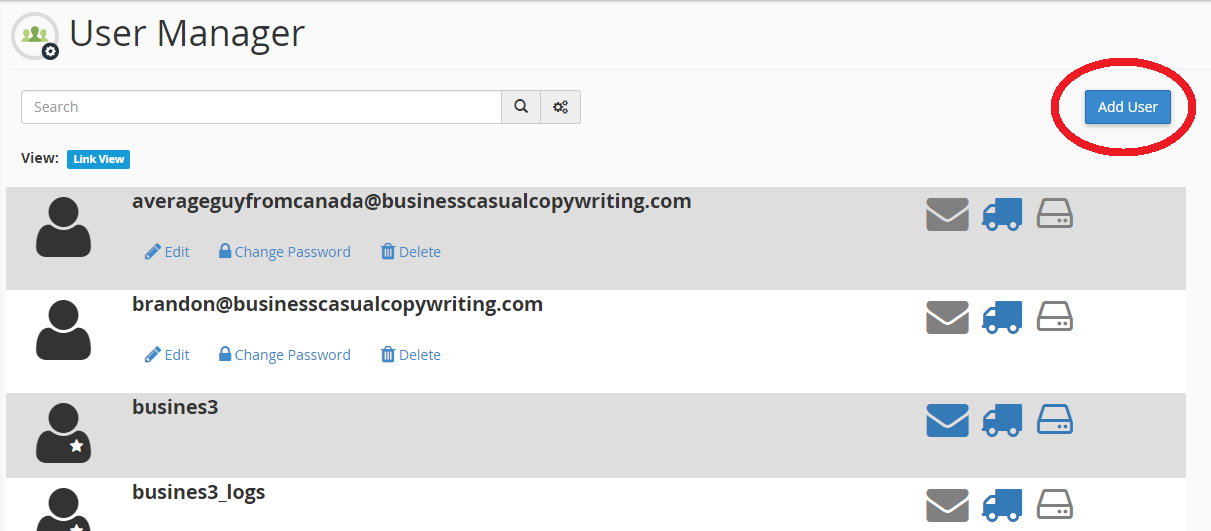 You'll then be taken to the following screen: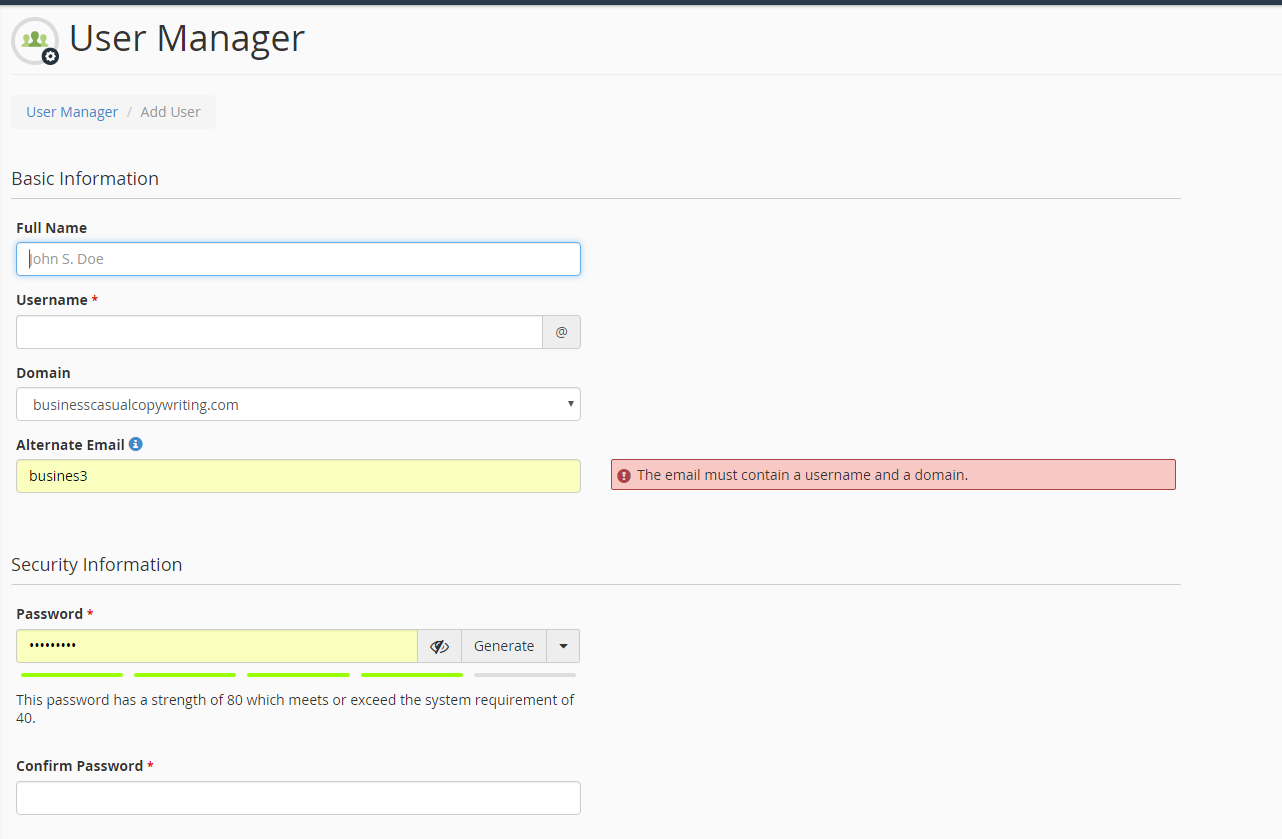 You'll add the user's full name, the username you'd like them to use, the domain that user is associated with and, if you want, an alternative email that user can be reached at.
You'll also be asked to create a password for the user. Make sure it's unique from all other users on your account.
Just below these fields, you'll find a section called "Services" where are some important settings: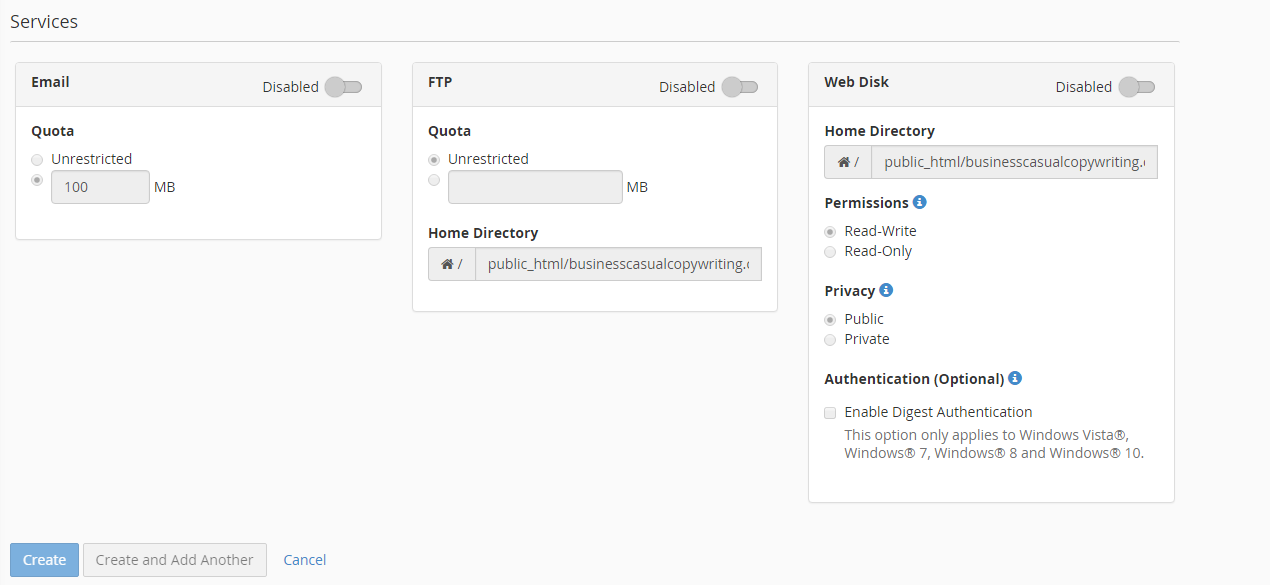 Email allows you to enable/disable email accounts for users (you'll need to set them up, first) and set a limit for how much space each account has. Emails can take up space on your hosting plan, so you may not want everyone to have the same permissions!
FTP allows you to enable/disable accounts from being able to access File Transfer Protocol where they can upload files to your site. You can choose what directory they'll have access to, and limit the space they can use.
Web Disk permissions should be reserved for only top-level admin accounts. "Read-Write" level access gives the user permission to do more or less whatever they want within the specified directory (including deleting files!), while Read-Only only permits reading, downloading and listing files.
When you're finished with these settings, click "Create" or "Create and Add Another" on the bottom left corner of the page to save the new account.
4. Managing Domain Names
The "Domains" section of cPanel is your go-to spot any time you need to add a domain name you've purchased to your hosting account, manage subdomains or redirect a domain you own to another site.

Adding a New Domain Name
To add a domain name to your cPanel (and thus, your hosting package), you'll need to click "Addon Domains" in the domain section shown above.
An "Addon Domain" is a totally new, unique domain you can use to create a fully-functional website – meaning you can host multiple domain names from the same control panel.

On the "Addon Domains" screen, you'll be asked to enter your new domain name, the subdomain and document root.
New domain name is the exact domain name you've registered – minus the "www." part.
Subdomain creates a subdomain for the primary domain on the cPanel account – this is automatic and your visitors will never know they're being redirected from subdomain.originaldomainname.com to your new domain name.
Document root is the location on the server where your new domain's files will be.
When you enter your domain name in the first box, cPanel will automatically populate the other two text boxes. In general, you should stick with these recommended settings.
Click "Add Domain" to finish up.
Editing/Removing a Domain Name
On the "Addon Domain" screen, there's a section called "Modify Addon Domain" where you can edit the document root (not recommended), manage any redirections you've put in place (one site forwarded to another), or simply remove the domain.

5. Email Accounts & Settings
Now that you've got an awesome domain name, you'll never have to have a boring generic email address again!
The "Email" section of cPanel gives you plenty of tools for managing every aspect of your email – from adding new accounts and dealing with spam to creating mailing lists and auto-responders.

Setting Up an Email Account
To add a new email account to your domain, click on "Email Accounts" to be taken to the following screen: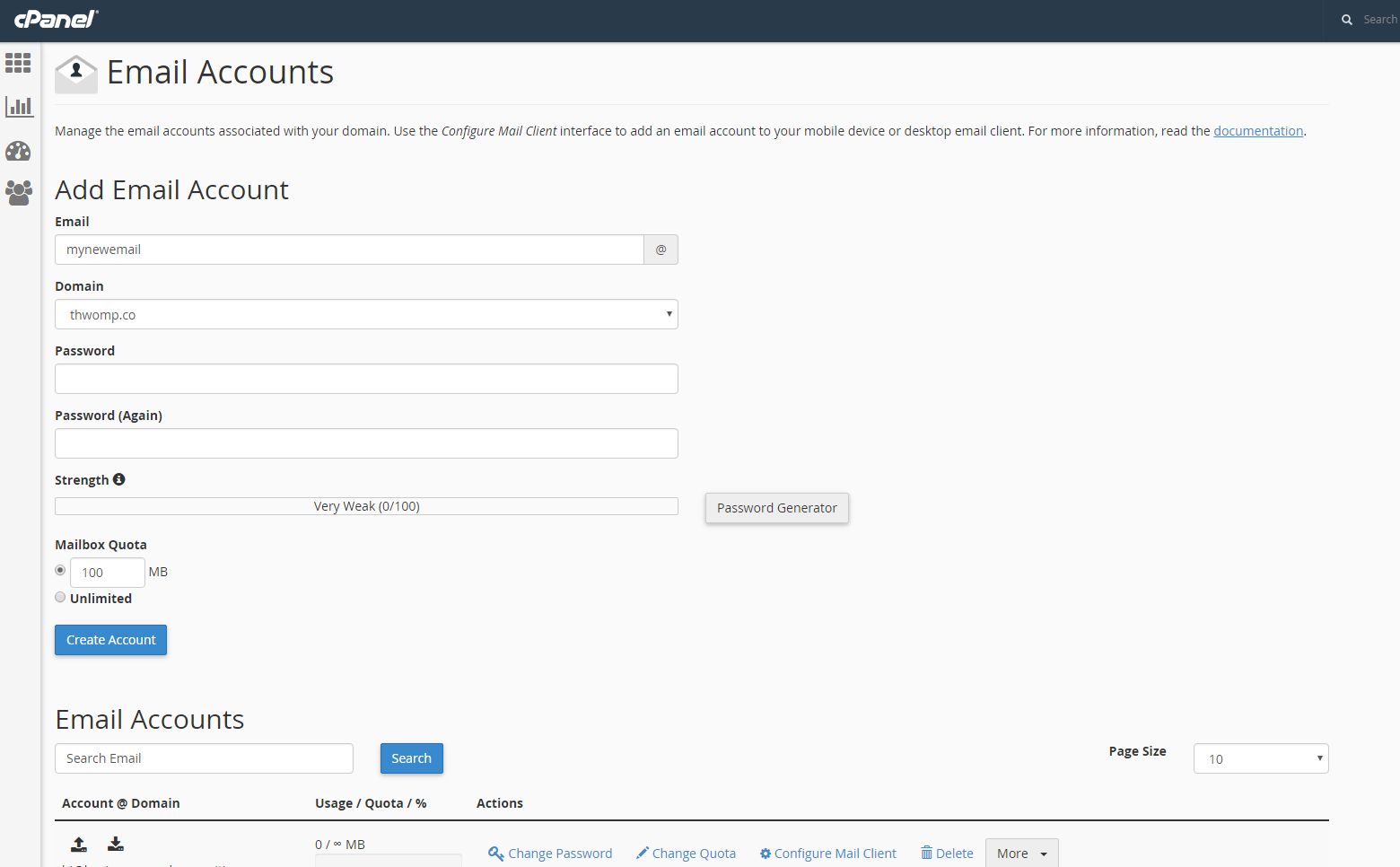 From start to finish, here's how to get your new account set up:
In the "Email" field, enter the address you'd like to be reached at – for example, "[email protected]" or "[email protected]"
Select the proper domain name from the drop-down field. If you haven't added your domain name to cPanel yet, you'll need to do that first.
Create a password – make sure it's a secure one!
Adjust the Mailbox Quota for the account. Remember: emails take up space on your server, so you may not want to give everyone unlimited access.
Click "Create Account"
Once you've done all of the above, you'll notice that the email you just created has been added to the list of email accounts below: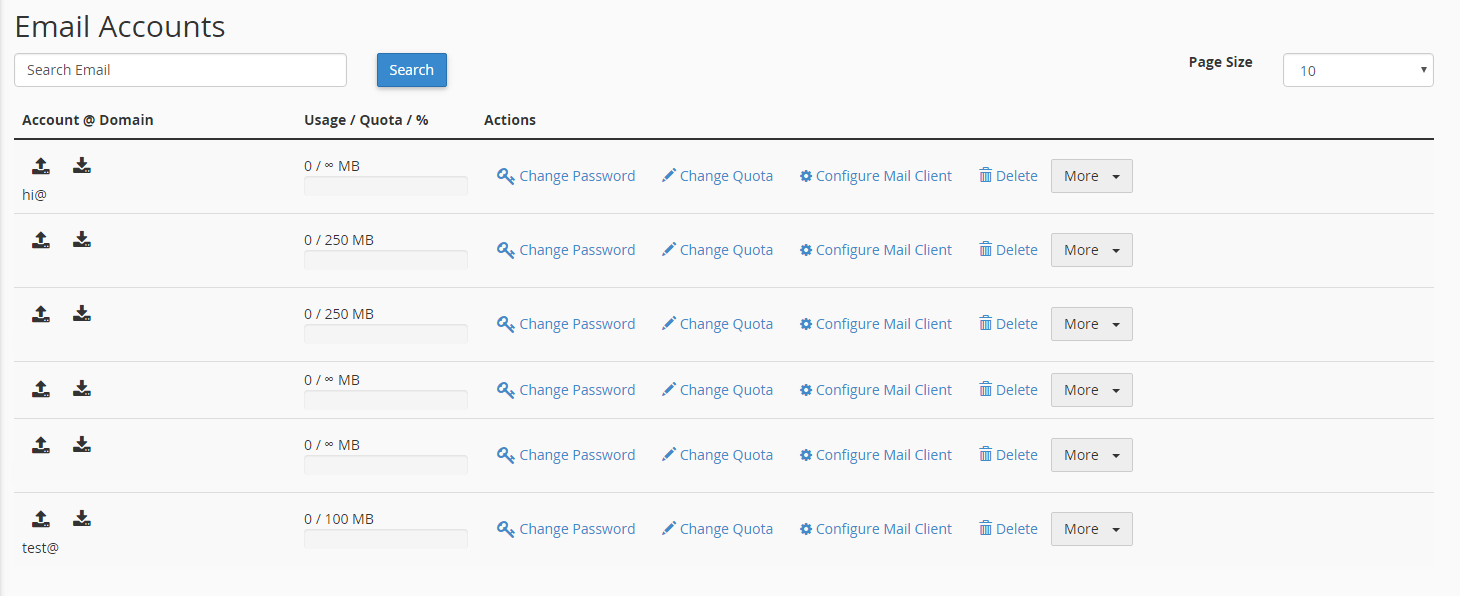 You can manage every element of that account, including the password, quota and mail client.
Accessing Your Webmail
Now that you've set up an email account – how do you use it?
While we can't cover setting up a mail client (like Google Apps, Microsoft Outlook or Mozilla Thunderbird) in this guide, we CAN give you a super easy way to get access to your webmail.
Once you've set up your account, simply go to your internet browser and insert http:// yourdomain.com/webmail, you'll be greeted by this screen: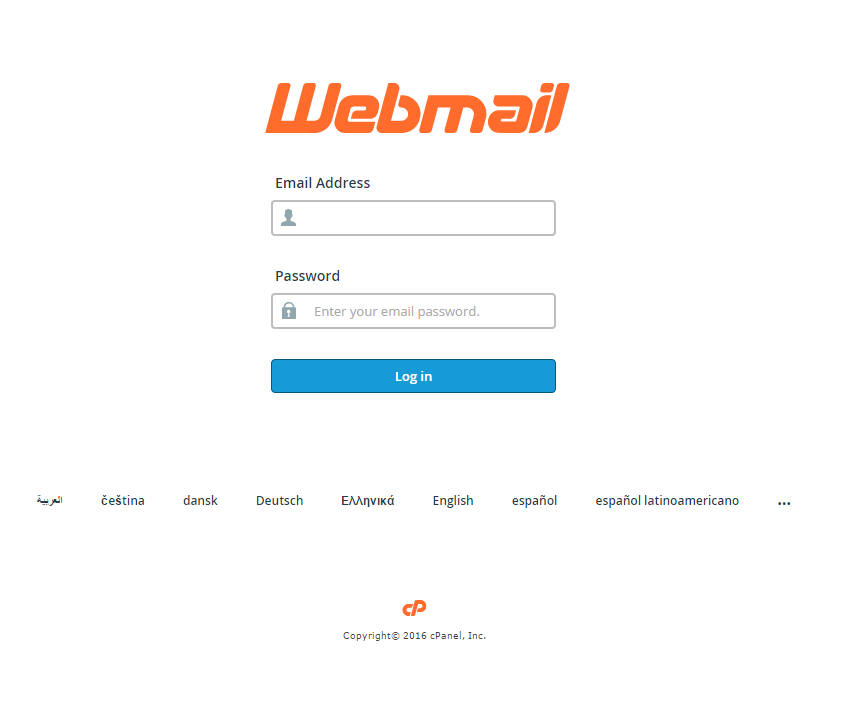 Enter the email address and password you created earlier, and you're in!
Forwarding Your Email to Another Address
Let's say you want to have your emails that arrive at [email protected] to forward on to another address you already own – like [email protected]
First, click on "Forwarders" to arrive at this screen: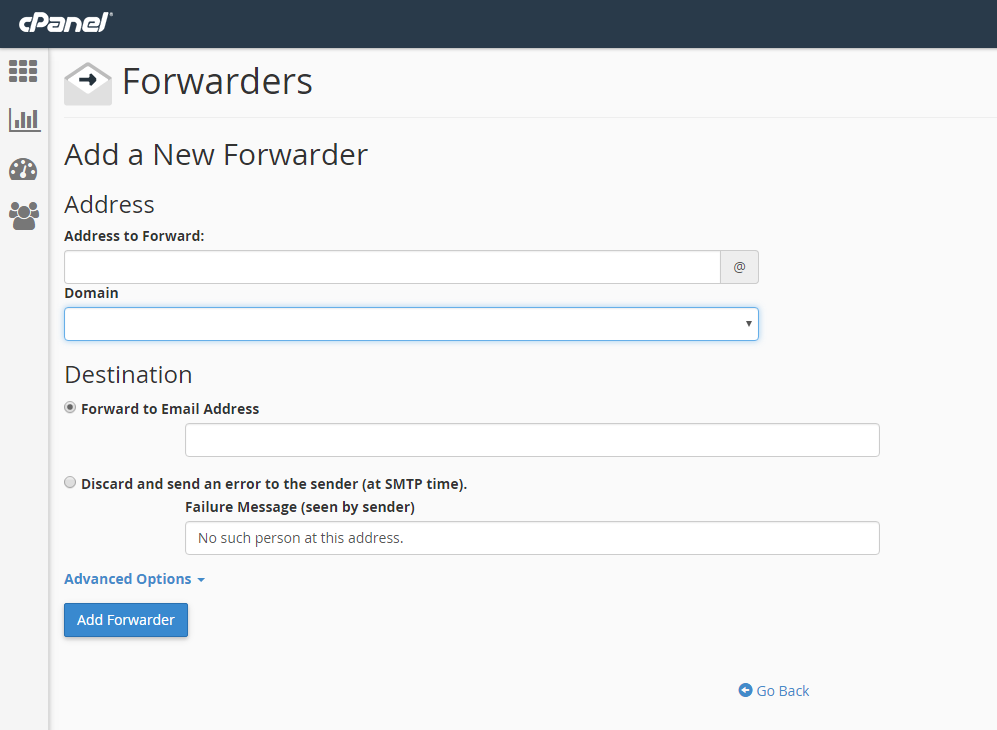 From here, you can enter an address you've already created ([email protected]) and choose a destination to forward those emails to.
Be aware, though: When you answer those emails from your other account (like [email protected]), they will come FROM that account, not from an email associated with your domain name.
If you want to send emails from [email protected], you need to either log into your webmail or configure your Mail Client and MX Records accordingly. This is beyond the scope of this guide.
Setting Up Spam Filters
Everybody hates spam – with cPanel, you can keep it from ever hitting your inbox!
Click on the "Apache SpamAssassin" icon in the Email section: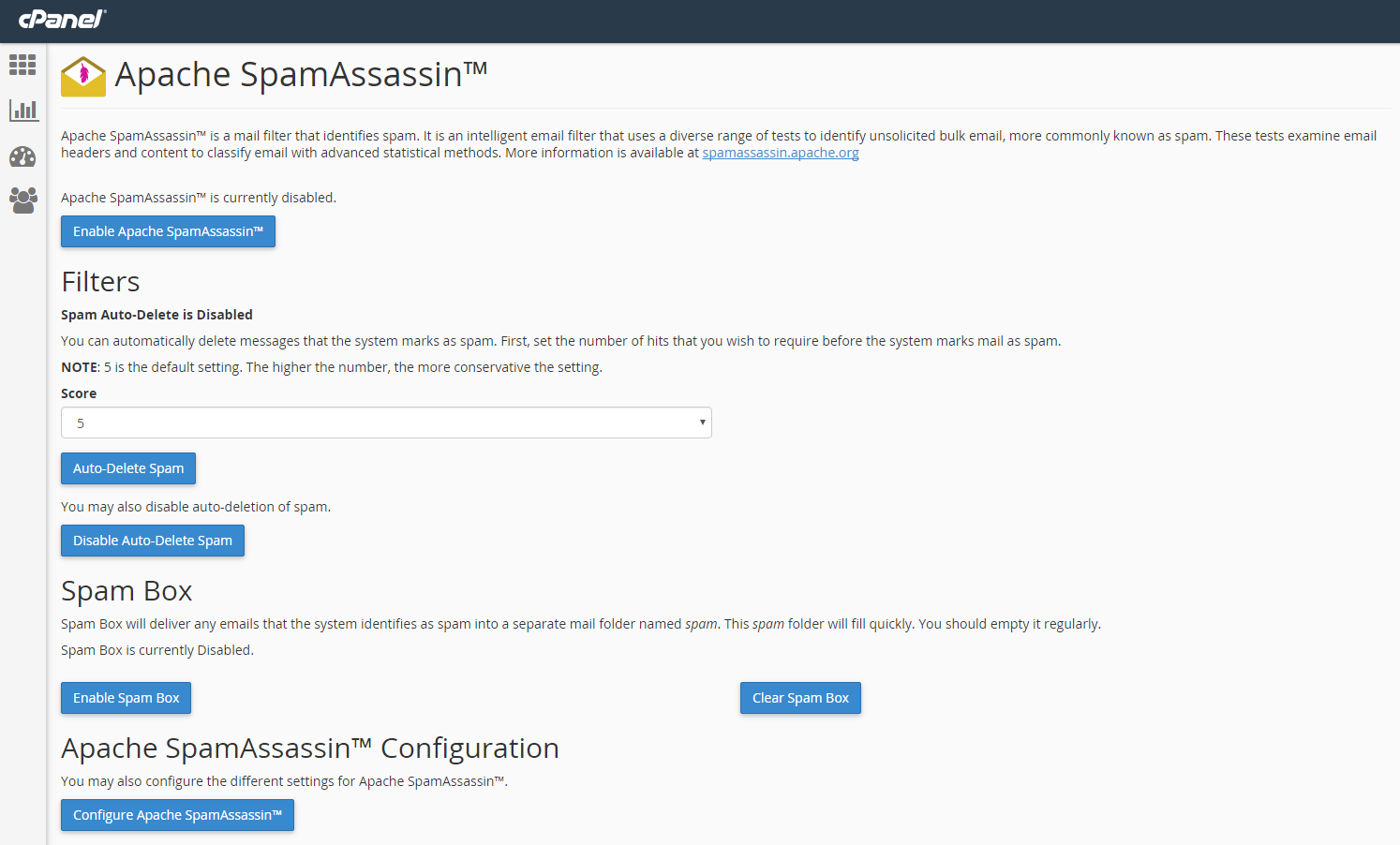 From here, you've got a few options:
Click "Enable Apache SpamAssassin" to turn on the intelligent spam filter.
If you want to, click "Auto-Delete Spam" to not only flag spam, but automatically get rid of it.
You can adjust how sensitive the spam filter is on a scale of 1 – 10 (1 being most liberal, 10 being most conservative).
You can enable your "Spam box" – or clear it out.
If you need to create advanced settings, you can click "Configure Apache SpamAssassin" to add blacklisted email addresses or protect valuable emails from being deleted with whitelisted email addresses.
For now, leave the settings alone.
6. Managing Your Files
The "Files" section of cPanel is your go-to spot for uploading files, backing up your website and managing your file transfer protocol (FTP) accounts.
FTP is a way of managing the files associated with your website – whether that means uploading, reading or retrieving them.

Using the File Manager
The first space you'll want to get acquainted with in this section is the File Manager.
The File Manager allows you to manage all of your site's files directly with HTTP instead of having to use an FTP tool or other third-party apps.
Click on the "File Manager" icon:

This is where all of your site's files are stored, therefore you'll want to proceed with EXTREME caution when making changes here.
There are a couple of quick things to point out on this screen. First, on the left you'll find the root folder and sub-folders, shown below: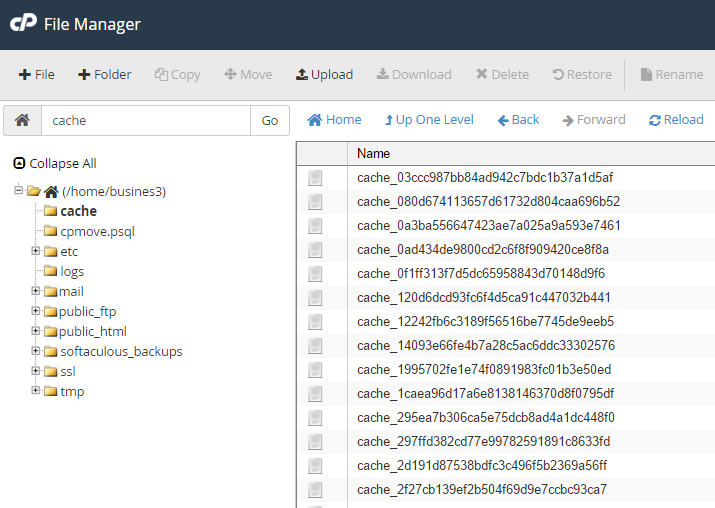 Root Folder
Sub-Folders
Then, in the middle of the screen, you'll see the contents of whatever folder you have selected (including the folder's sub-folders and files).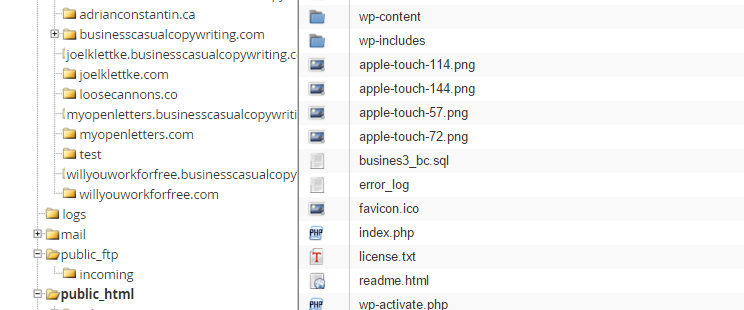 Sub-folders & Files
Selected Folder
Knowing this, here are a few things you might want to do:
Create a New Folder
Folders help you keep all of your files organized, making your site's structure easier to understand and maintenance much more straightforward.
To create a new folder, simply locate and click the "+ Folder" button along the top menu, as shown below:

You'll then be asked to name your new folder and enter the destination where the folder will be created.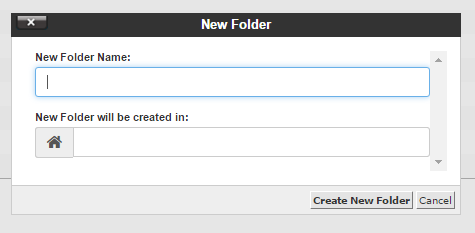 When you're done, click "Create New Folder", and you're set!
Uploading a File Using File Manager
To add a file – for example, a word document you want people to be able to download, or an image you want to use on your site – you'll first need to click on the folder where you want to upload to.
For example, in the image below, I've selected "cache":

Then, click on the "Upload" tab as shown below:

You'll be asked to drag and drop the file you want to upload, or simply select the file.

Adding an FTP account (for someone else to upload files)
If you've already set up your cPanel account, you should be able to use your cPanel's account username and password to log into FTP yourself immediately.
BUT – let's imagine you want to give someone else permission to upload files to your website using an FTP client (like FileZilla, for example).
First, click on the "FTP Accounts" icon to be taken to this screen: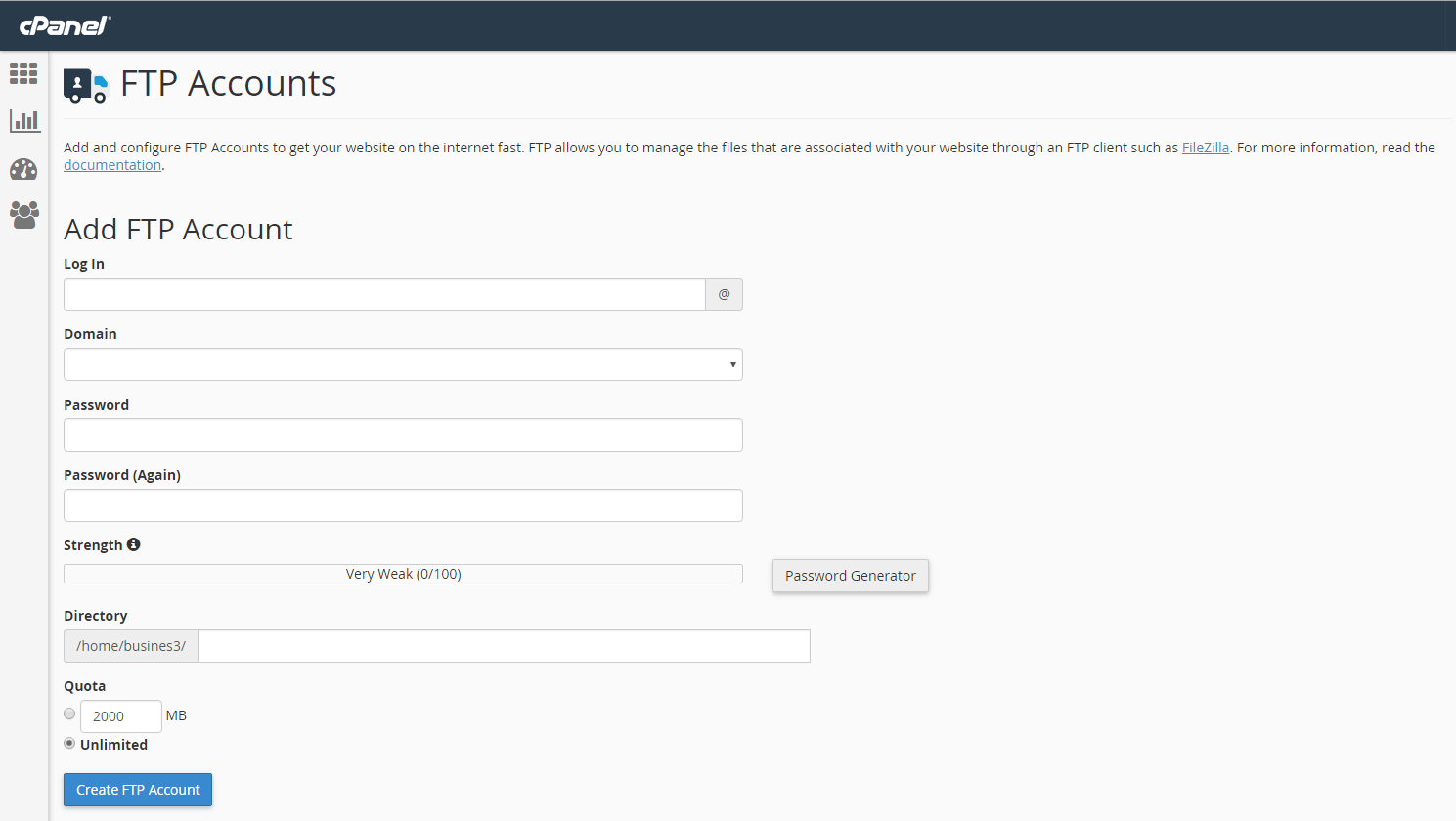 1. Create a login
To create a new FTP account, enter the login information you'd like in the "Log in" box. This will be the name another user uses to get access, make sure it's memorable.
Next, select the domain where you want to create the FTP account from the dropdown list and add a password. Remember to make these passwords as secure as possible using numbers, letters, capitals and characters.
You don't want to give hackers a chance!
2. Define the "home directory"
The "Directory" box defines the new FTP account's highest level of directory access – at the top level, they can edit. As cPanel explains:

3. Define the Quota
Finally, you'll want to set a maximum quota for the space the new FTP user can take up. This can be limited or unlimited amount of your disk space.
You can now manage all of your FTP accounts from the section at the bottom of the page: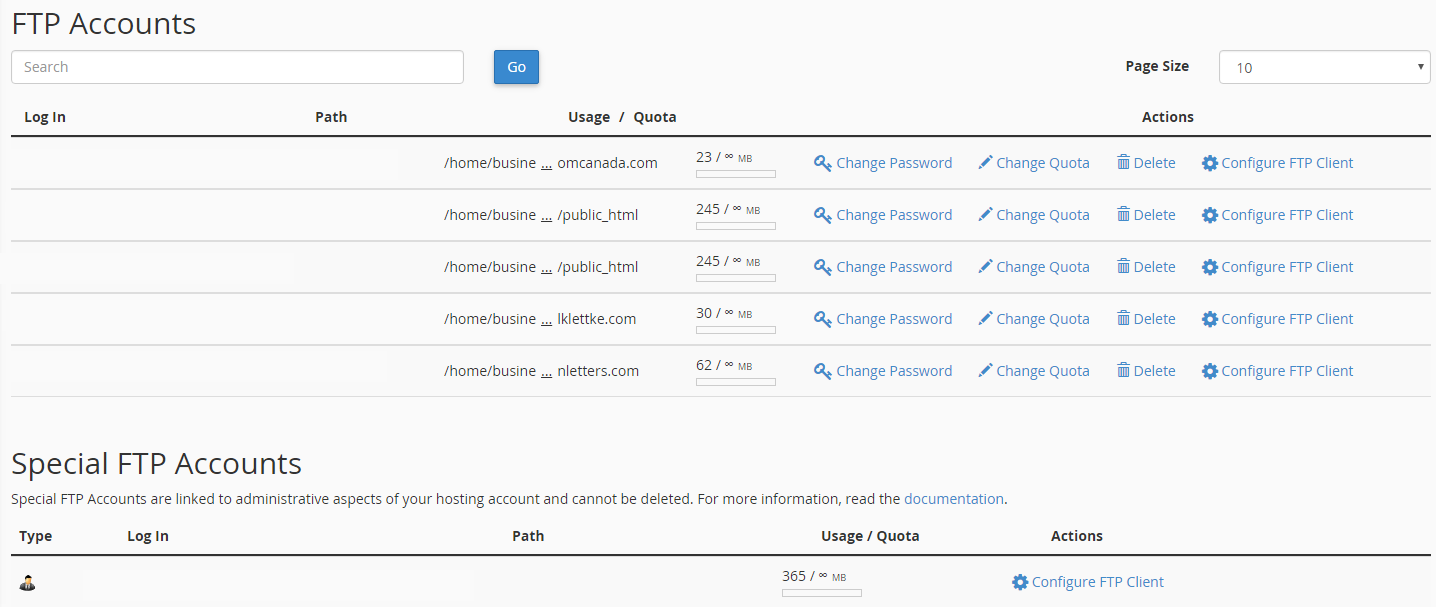 7. Backing Up Your Website
If you've ever had a phone or computer die on you, you know how devastating it can be if you haven't backed up your files!
cPanel makes it incredibly easy to keep this same tragedy from happening with your web site's files by giving you the chance to back your site up manually any time you choose.
To start, click the "Backup Wizard" icon in the Files section of your site, as shown above. While you can also do this by clicking "Backup", the "Backup Wizard" makes the process even more straightforward.
You'll then see this screen:

Click the "Backup" button to continue backing up your files. You'll be shown a screen where you have an option to choose whether you want a full backup (all files) or partial backup (Home Directory, MySQL Databases, Email Forwarders & Filters).
To make it easier, back up your entire site and save it to an external hard drive or another secure location.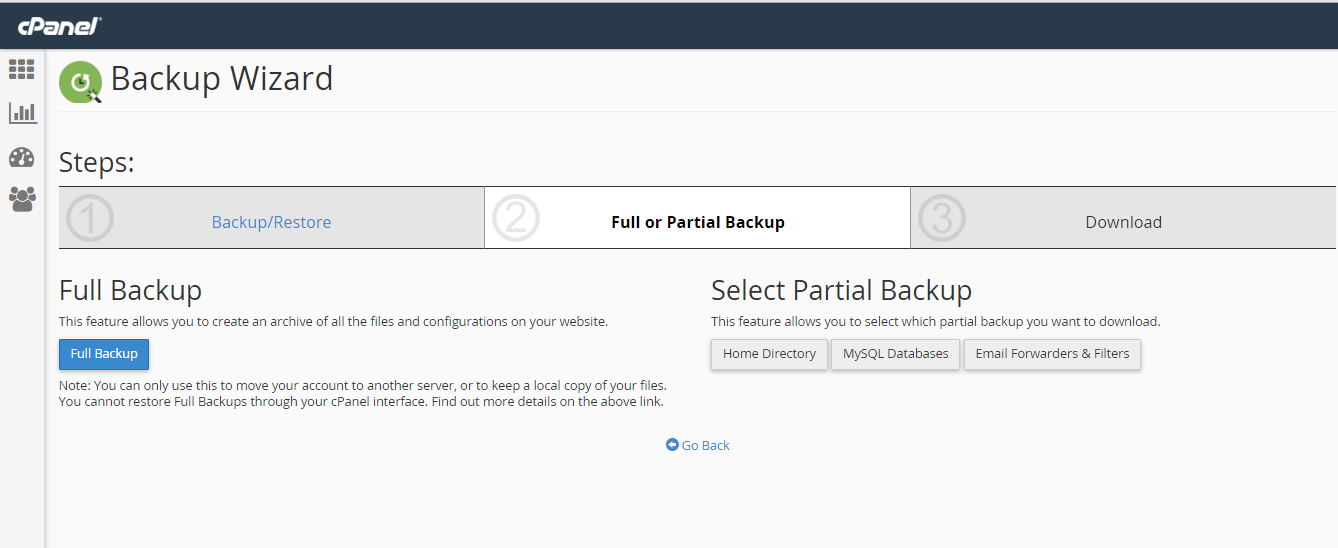 Finally, you'll be asked to choose a backup destination. Unless you have a remote FTP server (which you probably don't), you can leave this as "Home Directory" for now.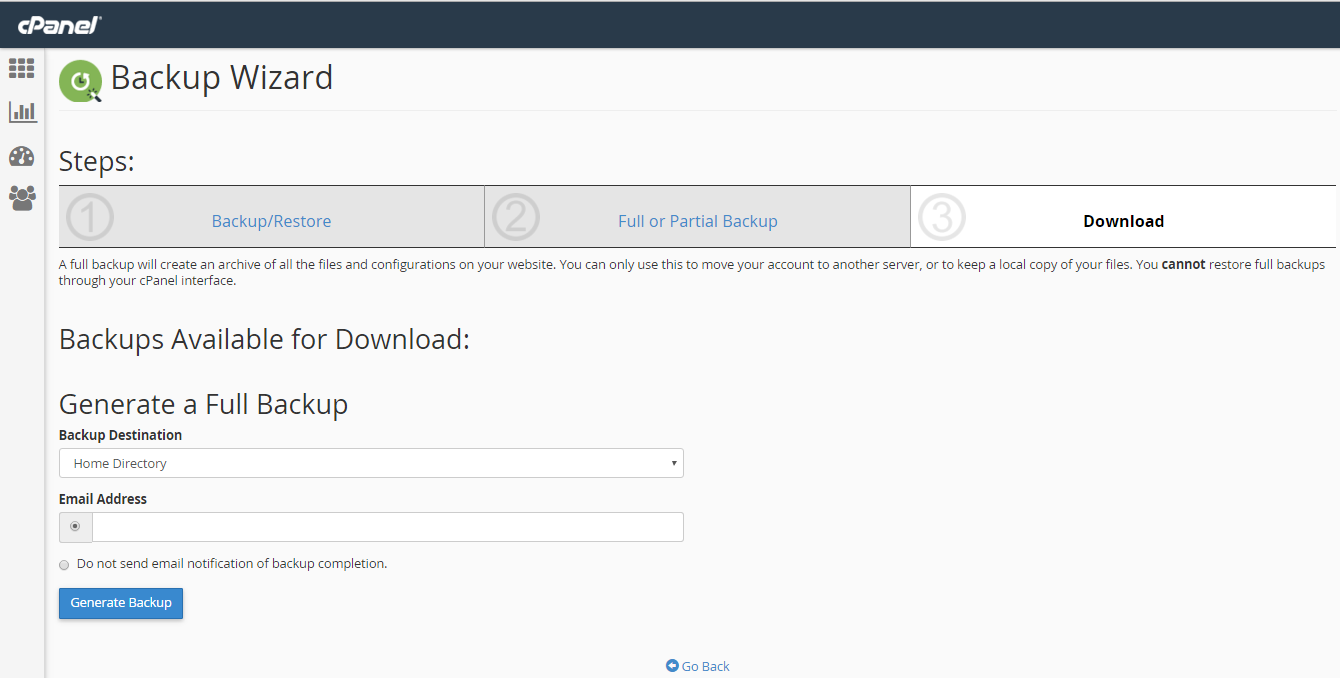 Insert your email address if you want to be notified of backup completion, then click "Generate Backup" to create a complete backup of your site!
Check Your Disk Space
No matter what your hosting company told you, your disk space is NOT unlimited. There are always limits to usage. As a new webmaster, it's important to know how much space you're taking up.
It's also important to check your disk space periodically to see what parts of your website are taking up the most room, so you know where to compress or delete unnecessary files if you're running out of space.
Click the "Disk Usage" icon above: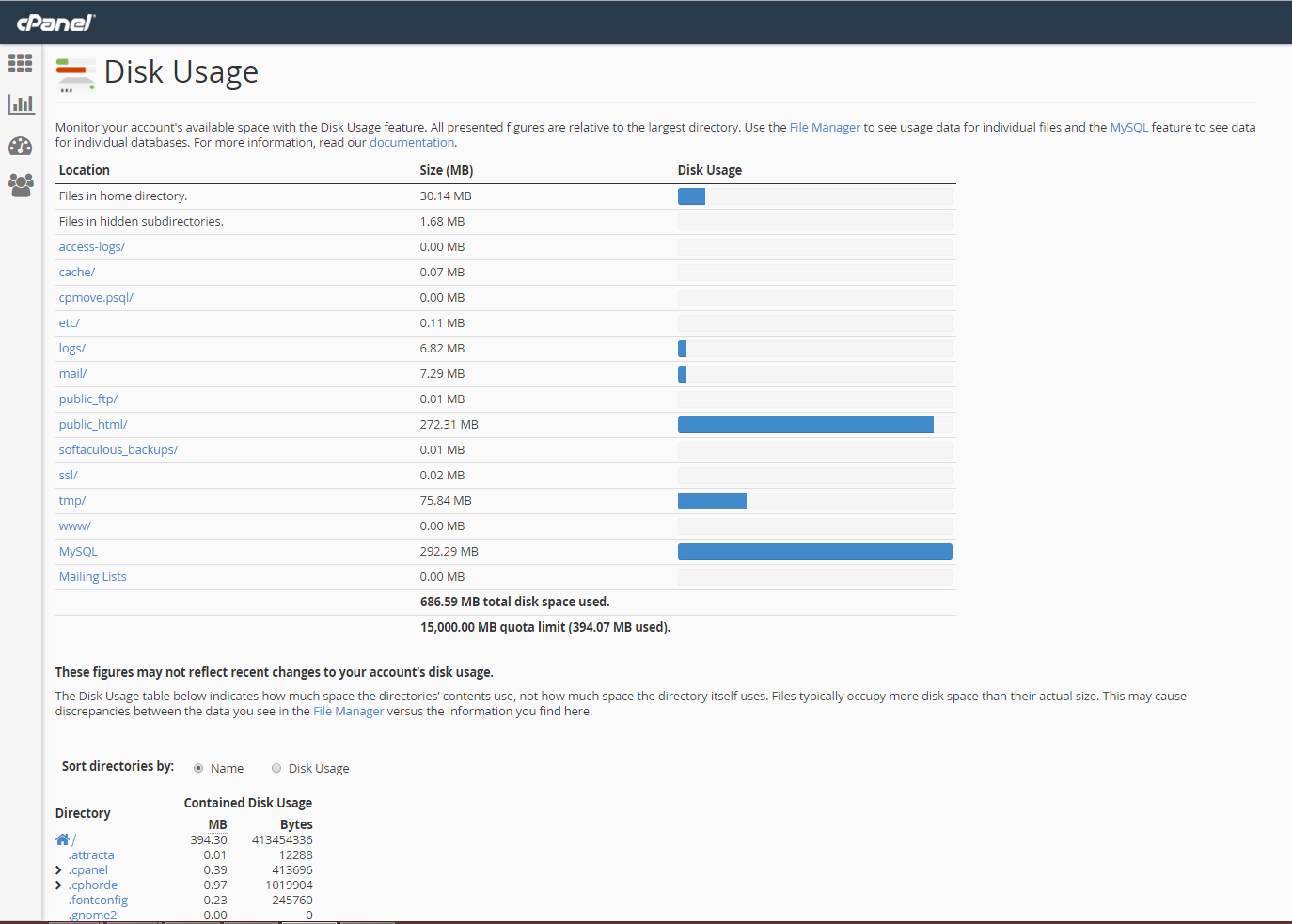 This page gives you an at-a-glance look at the different sections of your file manager and how much space each is taking up.
You can also see your quota or limit along the bottom of the first table – in this case, the quota in the image above is 15,000MB (or 15 gigs).
It's important to note that just because a blue bar is full doesn't mean you've used up all your space – all presented figures are relative to the largest directory.
8. One Click Installs (Like WordPress!)
The last thing we're going to show you how to do is installing WordPress, and other useful apps, directly from your cPanel. This will SERIOUSLY speed up the process of getting WordPress installed.
First, locate the "Software" section of your cPanel home page, then click "Softaculous Apps Installer".
The name of this tool is a little deceiving as it's not just apps you can install – but content management systems, too.

You'll then see a screen like this, FULL of apps you can install with a handy menu at the left-hand side: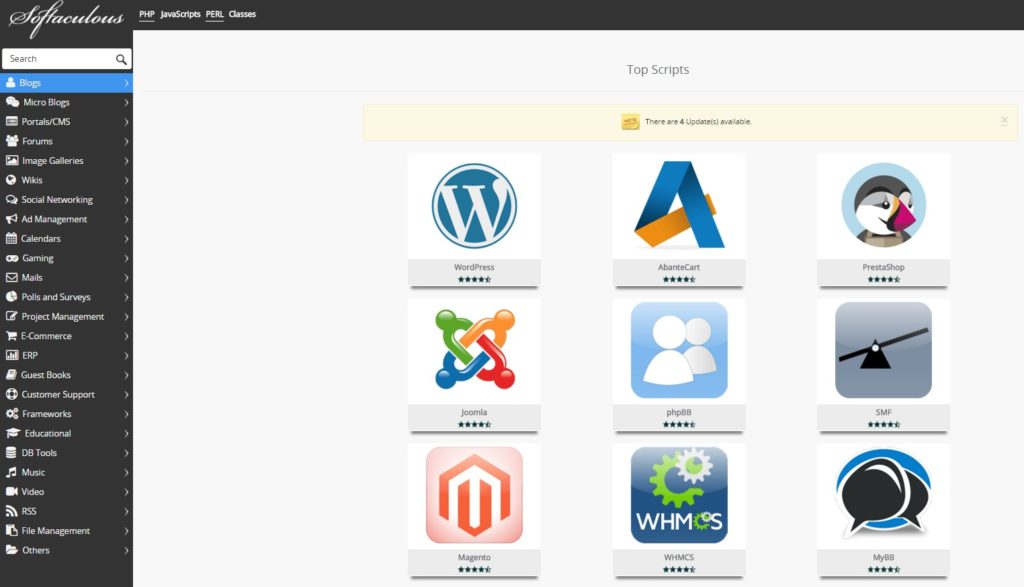 There's plenty of time to play around if you want – but be careful not to go too crazy adding apps you're not sure you're going to use. It's a good idea to research every app you're considering BEFORE installing it.
For now, mouse over "WordPress" icon – it should be at the top left in the middle of the screen – and click "Install" (if you haven't already installed WordPress on your domain).
You'll then see a screen like this: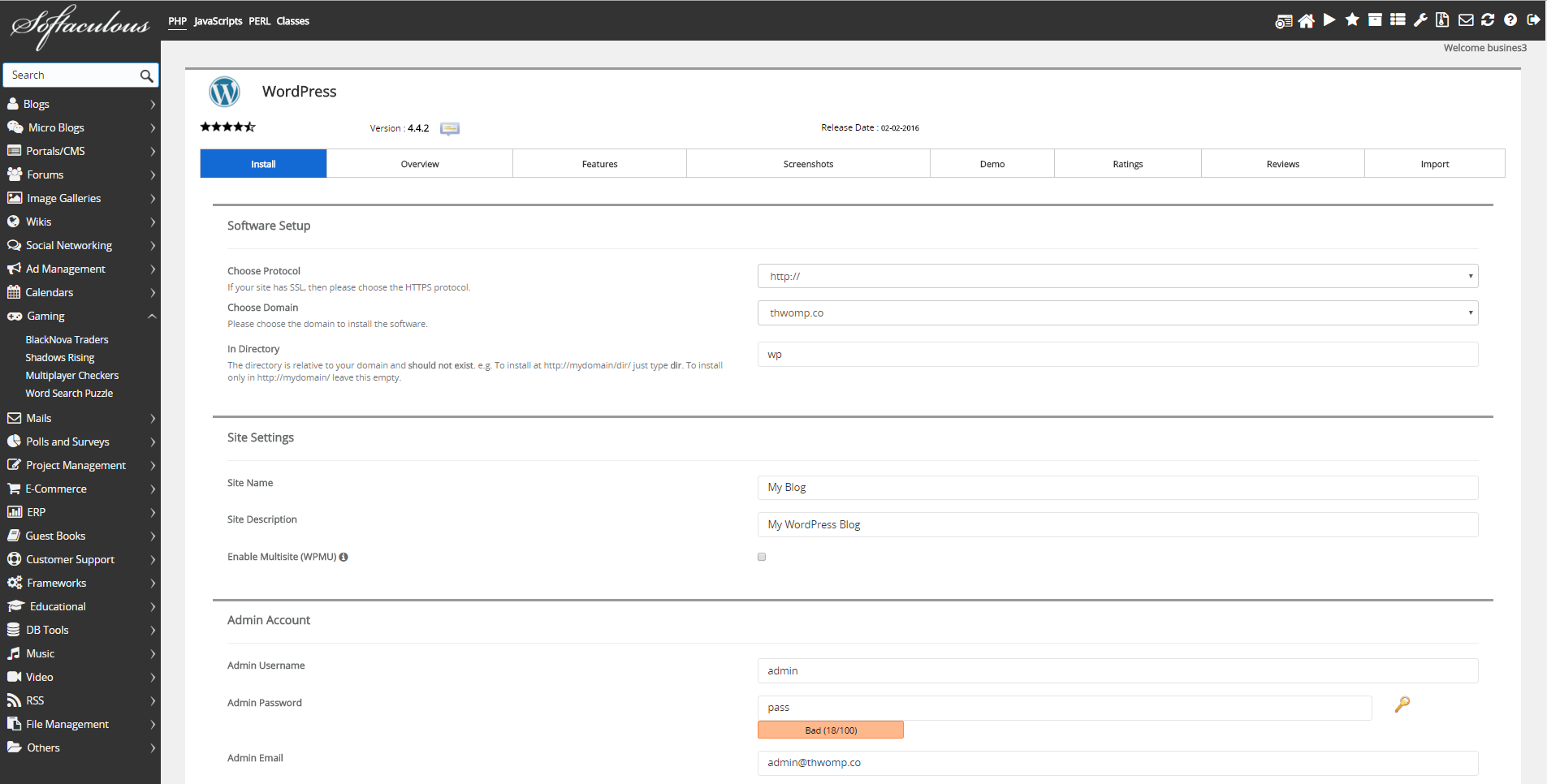 Configuring Your Domain Name & Site Name
Some quick tips:
Choose the protocol you want to use. If you DO NOT have SSL configured for your site (you'd know if you did), leave this field as HTTP://
Choose the domain you want to add WordPress to from the dropdown list. Be very careful not to select a domain name you have already installed WordPress on.
In the "In Directory" section, you need to pay a bit more attention. If you're adding WordPress as a blog to an already existing site, you'll want to set the directory to something like "wp" or "blog". If you plan to use WordPress for your ENTIRE website, leave this field completely blank.
For "Site Name", you'll want to choose a name that reflects what your site is called. We usually just re-enter our domain name here, without the "http://www." Or the ".com". For example, "http://www.yourdomain.com" would be written as "Your Domain".
Setting Up Your Admin Account

This step is VERY important! It's perfectly fine to leave the admin name as "admin", though you might want to change it to your own name.
For the admin password, make SURE you use a "very strong" password consisting of letters, numbers, characters, and capitals. DO NOT leave this field as "pass", unless you want to be hacked!
Make sure that you update the email of the admin to reflect an account that already exists. You can change this any time.

Now, set your language and enable the "Limit Login Attempts" by clicking the radio box – to avoid brute force attacks.
Don't bother with any of the advanced options for now.
Choosing a Theme
In the WordPress Install in Softaculous, you have the option to choose a free theme from the moment you install your site!

Use the "Search" function to dig through themes you might be interested in – when you find one you like, select it and push "Install".
Don't worry, you can change your theme any time later on – but it's important to find a theme you love before you create much content to be certain nothing gets too garbled in the transfer process.
Once you've clicked "Install", everything happens automatically!
When you're ready to log in to your website, if you left the field "In Directory" blank, you'll be able to log in at "http://www.yourdomain.com/wp-admin/"
Congratulations – it's time to start building your site!
You're ready to go!
We hope you've found this guide simple, useful and easy to understand. You now have everything you need to get going with some of the most important basic functions of cPanel.
If you get stuck or need help with more advanced features, it's always a good idea to ask a web developer for some help or a quick explanation before tinkering too much on your own.
While most changes are reversible, there's always a chance you could really mess something up – therefore always read a quick guide before making any changes, or get help when you need it!